---
Formy boje
19. 12. 2007
Formy boje světelnými meči jsou charakteristickými styly užívanými v bitvě. Na rozdíl od skutečných bojových umění, které se běžně cvičí po celé galaxii, formy bojů s meči mohou klást buď důraz na obranu nebo na útok, nebo obojí. Celkem je známo forem sedm:
Forma I Shii-Cho - Základní a nejčastější, leč účinná forma boje, kterou se učí v Chrámu Jedi už malí padawani. Známí uživatelé jsou Stass Allie a Kit Fisto.
Forma II Makashi - Nejvýhodnější v boji meč proti meči. Elegantní, efektivní a smrtelná. Jen málo rytířů Jedi či Sithů ji však používá, kvůli poměrné raritě tohoto druhu boje. Známí uživatelé jsou: Hrabě Dooku / Darth Tyranus, Exar Kun, Ki Adi Mundi a Shaak Ti.
Do III Soresu - Forma který silně zdůrazňuje obranu, je velmi účinná na odrážení blasterových střel. . Známí uživatelé jsou: Obi-Wan Kenobi, Barriss Offee a Luminara Unduli.
DoIV Ataru - Akrobatická forma, zdůrazňuje hbytost,je  relativně agresivní a inklinuje k otevřené obraně. Známí uživatelé jsou: Yoda, Qui-Gon Jinn, Aayla Secura a Obi-Wan Kenobi (částečně).
Forma V Shien / Djem So- Přebýrá některé obranné postoje z Form III a soustřeďujeje na útok. Taktéž vhodná na odrážení střel, akrobacii a silné útoky. Známí uživatelé jsou: Anakin Skywalker/Darth Vader, Luke Skywalker, Kyle Katarn, Plo Koon, Saesee Tiin, Agen Kolar (a možná Cin Drallig).
Do Vi Niman - Diplomatická forma, užívaná mnohými Jedii z posledních let Staré Republiky (za vlády Palpatina). 4asto užívaný jako obrana před jinými styly. Známý uživatel je Coleman Trebor.
Do VII Juyo / Vaapad - Forma pojmenovaná podle mnohoruké dravé šelmě Vaapad z planety Saraapin. Často je nebezpečnější svému uživateli, než jeho protivníky. Klade veliký výraz na útok, a to silné rány, proto je pomalá. Nedají se s ní odrážet střely z blasteru. Často ji užívaji Sithové, a Jedi bojující Vaapadem je velmi náchylný podlehnout Temné straně Síly. Známí uživatelé jsou: Mace Windu, Depa Billaba, Sora Bulq, Darth Maul, Quinlan Vos (neúplné školení), Darth Sidious a Generál Grievous (sloučeno ještě s další formou).
Sedm forem je představeno v knize Klony útočí: Obrázkový slovník. Jejich jména byly hodně rozváděny ve videohře SW: Knights of the old Republic: The Sith lords a v Rozšířeném vesmíru (knihy, komiksy...). Některé pramney však formy dělí důkladněji, na jedenáct forem.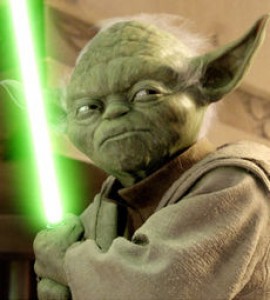 Mistr Yoda, jeden z mála Mistrů Jedi, kteří téměř dokonale ovládal všech sedm forem boje.
Komentáře
Přehled komentářů
---
---